This group of PD Dr.-Ing. Timo Mappes was established in the frame of the German Excellence Initiative I and was partly funded by the Karlsruhe Institute of Technology (KIT). When the group leader joined industrial research & development of Carl Zeiss AG in 2012, the group was discontinued. However, all then still ongoing PhD-projects were subsequently successfully terminated.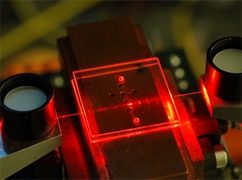 The aim of this interdisciplinary group was the creation of the technological basis for novel miniaturized sensor systems out of polymer for fluid analysis in chemistry, biology and medicine. To meet this challenge, process techniques need to be optimized and physical effects have to be simulated in order to build a selection of highly integrated sensor systems that are able to sense specific biomedical parameters. Therefore we were developing solutions for the integration of microfluidic, microoptical, and electro optical sub-systems and components.
Objectives of the development were high sensitivity, a minimal amount of analyte to be used for sensing, and low production cost in order to allow for using the optofluidic chips as disposables.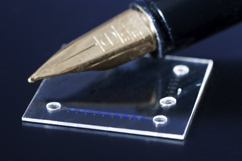 For specific biophotonic applications chips were optimized to show the reproducability and reliability of the entire system. Scientific foci were in the integration of miniaturized organic lasers on chip, the optimization of polymer resonators, and their biological functionalization for analytics.
The biophotonic systems group was working at the Institute for Microstructure Technology (IMT) in close cooperation with the Light Technology Institute (LTI), in addition there is a fruitful collaboration with the Institute for Applied Physics (APH) RG Kalt.
The doctoral researchers of this group were members of Karlsruhe School of Optics and Photonics (KSOP).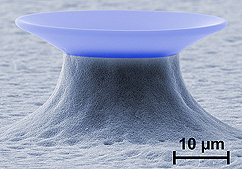 The group was always keeping an eye on the potential of commercializing the own scientific discoveries and has filed a number of patents. Within this context the group has strongly supported the founding of the spin-off company VISOLAS GmbH.
On an international level there is an additional close collaboration with the Optofluidics Group of Prof. Anders Kristensen at DTU NanoTech, part of the Danish Technical University (DTU) in Lyngby near Copenhagen.
The research group of PD Dr.-Ing. habil. Timo Mappes in press and media