Gruppe von PD Dr.-Ing. Timo Mappes
Biophotonische Sensoren
Diese Gruppe ist aus der Förderungen einer Nachwuchsgruppe aus dem Zukunftskonzept der Exzellenzinitiative I durch das Karlsruhe Institute of Technology (KIT) hervor gegangen.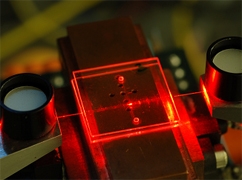 Ziel der interdisziplinär ausgerichteten Gruppe ist die Schaffung der technologischen Grundlagen für neuartige miniaturisierte Sensorsysteme auf Polymerbasis für die Fluidanalyse mit Anwendungspotential in Chemie, Biologie und Medizintechnik. Dafür werden Lösungen für die Integration von mikrofluidischen mit mikrooptischen und elektrooptischen Strukturen & Komponenten geschaffen. Im Vordergrund der Entwicklung stehen dabei eine hohe Empfindlichkeit der Sensorsysteme, ein minimaler Verbrauch von Analyt, sowie geringe Herstellungskosten der Systeme durch Einsatz hochparalleler Fertigungsverfahren, welche die einmalige Verwendung der Chips als sogenannte "Disposables" erlauben.

Die gewonnenen Erkenntnisse werden in Bauteilen für konkrete biophotonische Anwendung aus den Lebenswissenschaften umgesetzt.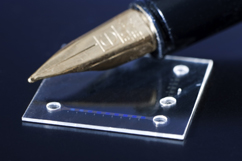 Besondere Schwerpunkte der Entwicklungen liegen auf dem Gebiet der Integration von miniaturisierten organischen Lasern in Chipformat und auf der Optimierung von verschiedenen Resonatorstrukturen aus Polymeren sowie deren biologischer Funktionalisierung für die Analytik.
Die Arbeiten erfolgen in enger Zusammenarbeit des Instituts für Mikrostrukturtechnik (IMT) mit dem Lichttechnischen Institut (LTI) sowie in enger Kooperation mit dem Institut für angewandte Physik (APH) AG Kalt.
Die Doktoranden der Gruppe sind Kollegiaten bzw. Stipendiaten der Karlsruhe School of Optics and Photonics (KSOP).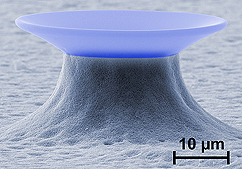 Die Gruppe behält stets die wirtschaftliche Nutzung ihrer gewonnenen wissenschaftlichen Erkenntnisse im Blick. Entsprechend hat sie bisher einige Erfindungen zum Patent bzw. Gebrauchsmuster angemeldet. In diesem Rahmen wurde unter anderem die Ausgründung der VISOLAS GmbH aus dem KIT maßgeblich unterstützt.
Auf internationaler Ebene besteht außerdem eine langjährige und enge Zusammenarbeit mit der Optofluidik-Gruppe von Prof. Anders Kristensen an der Dänisch Technischen Universität (DTU) in Lyngby bei Kopenhagen und einer fruchtbaren Zusammenarbeit mit der Gruppe von Prof. Andrea M. Armani an der University of Southern California (USC) in Los Angeles, CA, USA.
Die Gruppe von PD Dr.-Ing. habil. Timo Mappes in Presse und Medien