Chemie: Funktionsschichten mit Licht auftragen
Die Gruppe von Dr. Pavel Levkin veröffentlicht ihre Ergebnisse im Fachmagazin Advanced Materials.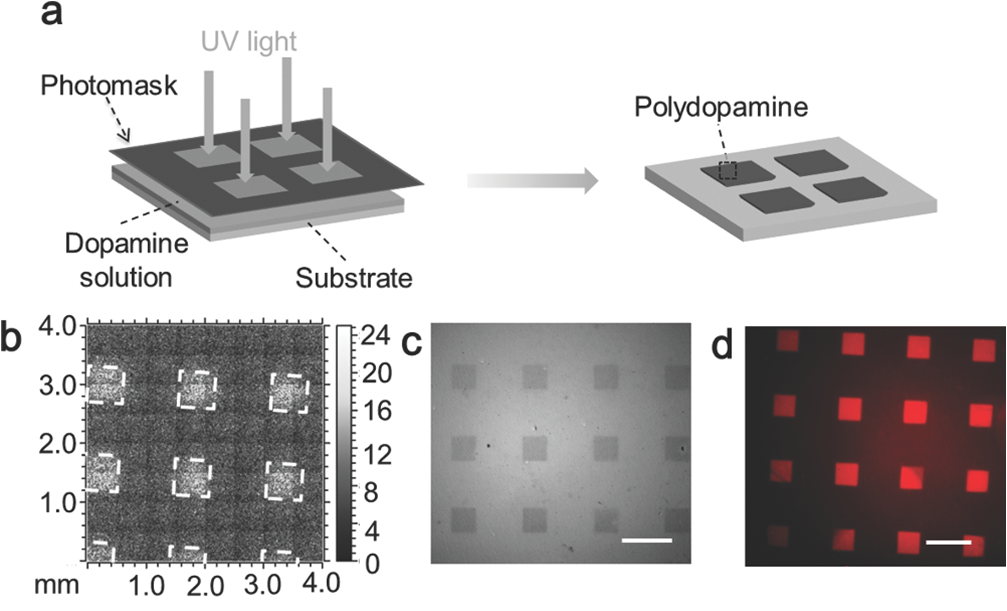 Ob antibakterielle Skalpelle oder papierdünne Bildschirme – funktionale Oberflächen machen es möglich. Als Trägerschicht eignet sich besonders der Kunststoff Polydopamin, mit dem sich Muscheln an Felsen festhalten: Er haftet an fast allen Materialien und lässt sich nach dem Auftragen weiter bearbeiten. Forscher des KIT haben nun ein Verfahren entwickelt, um die Schichtbildung gezielt zu steuern: Mit ultraviolettem Licht können sie den Prozess an- und ausschalten, beschleunigen sowie spezifische Muster vorgeben.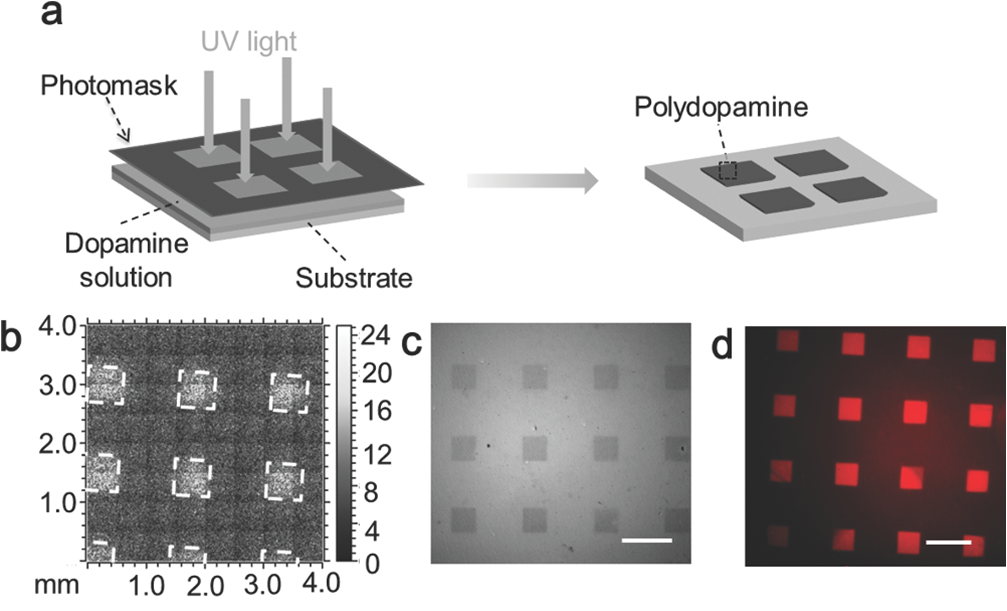 Photopatterning of PD. a) Schematic representation of the PD UV patterning. b) ToF-SIMS characterization of a PD pattern produced by photopatterning on a silicon wafer surface. c) Bright-fi eld microscopy image of a silver nanoparticle pattern produced on a PD patterned surface. d) Red fluorescence pattern formed by a treatment of the PD pattern with a Rhodamine-thiol solution . The scale bars are 1 mm.
Ist der pH-Wert einer wässrigen Lösung basisch, lagert sich darin gelöstes Dopamin als Polydopaminschicht an Gegenstände an. Dieser Vorgang beruht auf einer chemischen Reaktion mit Sauerstoff und kann bis zu wenige Tage dauern. Wie die Nachwuchsgruppe um KIT-Forscher Pavel Levkin nun zeigte, erzielen reaktionsfreudigere Sauerstoffradikale den gleichen Effekt in einer halben Stunde. Die kurzlebigen Radikale entstehen nur unter UV-Licht und reagieren im Gegensatz zu molekularem Sauerstoff auch bei abweichendem pH-Wert. In neutralen und sauren Lösungen bildet sich Polydopamin folglich nur, wenn UV-Licht zugeschaltet ist. Mit lichtundurchlässigen Schablonen lassen sich beliebige Muster auftragen. Das Verfahren eröffnet neue Anwendungsmöglichkeiten: Etwa wenn auf Oberflächen von Bioimplantaten mehrere funktionale Strukturen nebeneinander Platz finden müssen.

Veröffentlichter Artikel im Volltext:
http://onlinelibrary.wiley.com/doi/10.1002/adma.201403709/full


08.11.2014