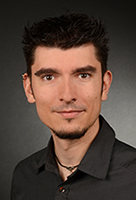 PD Dr. Dr. Michael Hirtz
[sci.] group leader at the Institute of Nanotechnology (INT)

Physics
dip-pen nanolitho

Group:

Group Leader

Room:

Germany, KIT

Phone:

+49 721/608-26373

Michael Hirtz∂ kit edu
Research Topics
Our research is aimed at the advancement and application of "Dip-Pen Nanolithography" (DPN) and related methods like e.g. "Polymer Pen Lithography" (PPL).
DPN and PPL are versatile tools, combining advantages of electron beam lithography, inkjet printing and microcontact printing in relation to resolution, integration and throughput. These methods are of particular interest when working with sensitive biological materials, since they work at mild process parameters and need no lift off processes (with the associated solvents or etching processes). Furthermore, DPN allows for "multiplexing", i.e. the parallel application of different inks within a pattern. The achievable resolution is strongly dependant on the substrate/ink system and spans from <20 nm (thiols on gold) to about 100 nm (phospholipids on glass).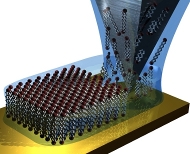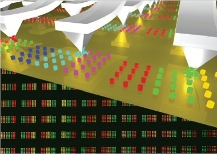 Lipid DPN:
Use of a parallel array of DPN pens which can write surfaces with different functional materials at the same time
.
A system of special interest for biological applications is the DPN with phospholipids (Lipid DPN). This method enables the generation of structured lipid membranes with a resolution of down to 100 nm and with different functional admixings. The height of the lipid membranes is adjustable and spans from a single lipid layer (~2 nm), over one to view lipid double layers up to layers of 200 nm thickness.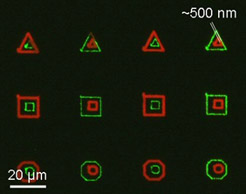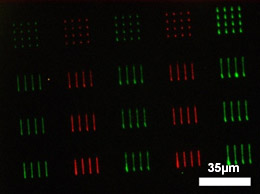 Multiplexing and "sub-cellular integration": Two different proteins integrated on a sub cellular scale by lipid DPN (left) and a protein/dye pattern, immobilized by click-chemistry DPN (right).
Short CV
Scientific Degrees:
Diploma in Physics Westfälische Wilhelms-Universität Münster (2005)
PhD (Dr. rer. medic.) in Medical Sciences / Uniklinikum Münster (2008)
PhD (Dr. rer. nat.) in Physics / Westfälische Wilhelms-Universität Münster (2009)
Habilitation (Priv.-Doz.) in Physics / Westfälische Wilhelms-Universität Münster (2017)
Current and Previous Positions:
Scientific Fellow at the Physical Institute of the WWU Münster (2005-2009)
Scientific Fellow at the Institute of Nanotechnology (INT) of KIT (2010-ongoing)
Journal Editor Nanofabrication, De Gruyter Open (2013-ongoing)
Visiting Fellow at Nanyang Technological University Singapore, School of Materials Science & Engineering (in 2013)
Research Visit at Northwestern University, Department of Materials Science and Engineering (in 2014)
YIN-Speaker Transdisciplinary Committee (2015/2016)
KIT Associate Fellow (2016-2017)
Editorial Board Member Scientific Reports, Springer Nature (2017-ongoing)
Grants and Awards:
CeNTech-Day Award 2009 for the project "Structuring Polymer Brushes by LB- and AFM-Lithography"
KIT STUB Grant (Start-Up Budget) 2011, project "Substrate-independent and multiplexed Dip-Pen Nanolithography with Azide Inks on reactive Coatings for Bio-Applications"
Invitation to the DFG NSF Research Conference 2011 "Bioinspired Design and Engineering of Novel Functional Materials", 22-25.3.2011, New York. Talk: "Writing Bio-Molecules via Dip-Pen Nanolithography - Towards a general Toolbox for the Immobilization of bioactive Molecules on Surfaces"
Tan Chin Tuan Exchange Fellowship at Nanyang Technological University Singapore (2013)
DAAD PPP Exchange with Taiwan at National Taiwan University (Project-ID 56193375) (2013)
Coordinator and Scientific Supervisor for Marie Curie Actions (in call FP7-PEOPLE-2012-IEF) Grant for Project "DPNLipidMembranes" (2013-2015)
"Best Talk given by a Young Scientist" Prize at the 17th Heiligenstädter Colloquium on "Technical Systems for the Life Sciences" (2014)
Member of the Karlsruhe Young Investigator Network (YIN) (2014-2016, Alumnus since 2016)
YIN Grant 2015 "Towards Massively Parallelized Electrochemical Dip-Pen Nanolithography" (2015)
Partner in ERC proof-of-concept grant "CTC-Capture" (2015-2016)
DFG Project "Funktionalisierte optomechanische Schaltkreise aus Diamant für Infrarotspektroskopie und Gassensorik" (HI 1724/3-1) (2015-)
YIN Grant 2017 "Nanoscale Biofunctionalization of Polymer Brushes by Dip-Pen Nanolithography" (2017)
Partner in ERC proof-of-concept grant "CTC-Capture 2.0" (2017-)
Selected Publications:
A full publication list can be found under: http://www.researcherid.com/rid/C-8821-2011