News Archive 2018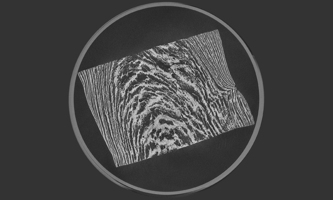 Plant proteins for meat lovers
Scientists at KIT and colleagues from TU Berlin are working on a better meat texture for plant substitutes.The typical impression when chewing, the mouth feeling, is based above all on the fibre-like texture of meat,"; explains YIN member Dr. Azad Emin. The process engineer heads the KIT junior research group "Extrusion of Biopolymers". In extrusion, a dough-like mass is pressed. The researchers are now analysing the interactions between pressure, temperature, flow and shear forces in order to specifically modify the structure of plant proteins.
Presseinfo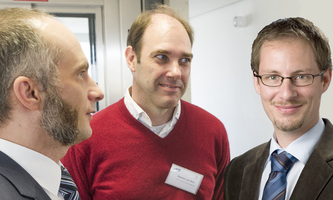 YIN founders spokesman becomes honorary members
10 years ago they helped to launch the Young Investigator Network and today they are honorary members: YIN founder spokespersons Prof. Timo Mappes (l. ), Dr. Dominic von Terzi (m. ) and Prof. Chris Eberl (r. ). They started in 2008 as junior research group leaders and have since embarked on very different career paths. Timo Mappes is Museum Director and Professor of the History of Physics in Jena, Dominic von Terzi Manager at GE Global Research and Chris Eberl Deputy Director of the Fraunhofer Institute for Mechanics of Materials. YIN connects with them to this day.
Chris Eberl im Videoportrait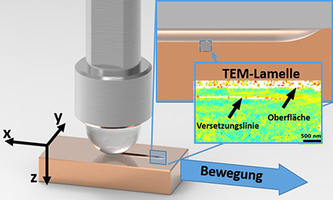 Scripta Materialia: Contact causes material change
Friction causes wear. But how? Experiments at KIT showed that a sharp line of 100-200 nanometers in depth forms within the softer material at first contact already. Atoms shift relative to each other and some of these dislocations self-assemble into the observed line-shaped structure, explains YIN member Dr. Christian Greiner, who is corresponding author of the articlespublished in Scripta Materialia. Within the material, a kind of atomic wave occurs which propagates similar to the movements of a snake. The scientists also analyze how friction accelerates oxidization.
Press info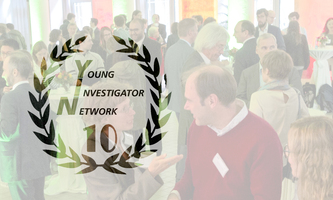 YIN Day 2018 - 10th Anniversary of the Young Investigator Network
YIN has been on a success story for 10 years! Special thanks go to the friends and supporters of the YIN who have accompanied the network over long distances. We were very happy to see many familiar faces at YIN Day 2018. Highlights of the public program were a scientific keynote lecture by YIN Alumna Erin Koos, professor at the KU Leuven, and a panel discussion on "Careers in Science - Fostering Research"; with selected representatives of the major external funding agencies and university policy. Thank you very much for coming!
Impressions YIN Day 2018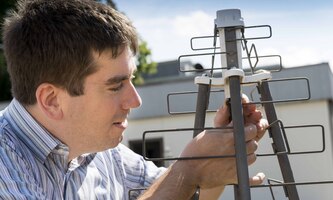 ERC Starting Grant for Frank Schröder
With a new radio antenna field, Dr. Frank Schröder will search for high-energy photons that accompany the massively charged particles of cosmic rays. The future setup will also measure signals with energies smaller by a factor of 100 as in photons originating from our galaxy. "Within three years, I expect to obtain crucial indications as to where the highest-energy particles of the Milky Way are formed", says the former YIN member who has just taken up an assistant professorship at the University of Delaware, USA. The ERC will fund his project with 1.6 million euro over five years.
press info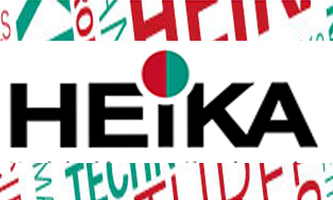 Strategic Partnership with Heidelberg university
The joint promotion of young talent, teaching, and innovation are new activities within the HEiKA cooperation. With the renewed framework agreement signed in June, the research partnership between KIT and the Heidelberg University expands into the "Heidelberg Karlsruhe Strategic Partnership". Continuing under the acronym HEiKA, the two partner institutions plan to establish joint research institutes, study programs, and graduate schools. Since 2013, YIN members have successfully applied for nine HEiKA projects with partners from Heidelberg.
press info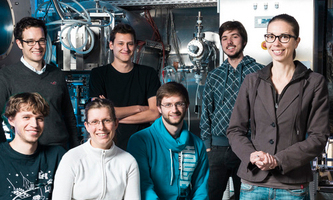 Top mark for Kathrin Valerius and her group
The Council for Research and Promotion of Young Scientists (CRYS) rated the Helmholtz group of YIN speaker Kathrin Valerius as "extraordinary success". Her team developed strategies and methods to analyze the data on neutrino mass measured with the Karlsruhe Tritium Neutrino (KATRIN) experiment. At the interface of cosmology and elementary particle physics, neutrinos play a key role in modern astroparticle physics. Starting with the measurement operation on 11 June 2018, the scientists will use the data to search for new physical phenomena.
KATRIN experiment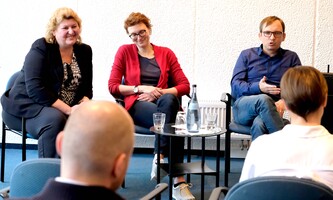 Alternative: professor at an uni of applied sciences
Becoming professor at a university of applied sciences can be an appealing alternative career option. For three YIN alumni it has become a reality. At the YIN fireside chat in April, Prof. Romana Piat (Darmstadt), Prof. Stefanie Betz (Furtwangen), and Prof. Oliver Waldhorst (Karlsruhe) talked about getting appointed and about the differences and similarities between working at a university of applied sciences and a regular one. While industry experience is crucial for a career in applied sciences, for some it may be attained project-wise or at a research center. The teaching load can be reduced.